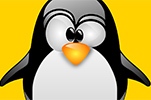 The popular, DRM-free game shop GOG.com announced earlier this year they were working on a Linux marketplace. GOG has not only delivered on that promise, they have brought native games to Linux users ahead of schedule!
A while ago, we've announced our plans to add Linux support as one of the features of our digital platform, with 100 games on the launch day sometime this fall. We've put much time and effort into this project and now we've found ourselves with over 50 titles, classic and new, prepared for distribution, site infrastructure ready, support team trained and standing by, and absolutely no reason to wait until October or November. We're still aiming to have at least 100 Linux games in the coming months, but we've decided not to delay the launch just for the sake of having a nice-looking number to show off to the press. It's not about them, after all, it's about you. So, one of the most popular site feature requests on our community wishlist is granted today: Linux support has officially arrived on GOG.com!
The GOG website has a list of supported titles for Linux users along with a short list of games that will be made available on Linux in the coming months. Be sure to check out the new Linux marketplace, our options are growing in number all the time!
Tweet
---